10 Best Coastal Meals On Wheels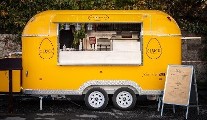 Wednesday 04 August 2021
A "food truck" once meant greasy burgers or fish and chips from a van on the street after a gig or a match. Not any more, as the humble truck has taken on the status of destination dining – and it's not all down to the pandemic.
Back in 2016, Chan Hon Meng in the Chinatown area of Singapore was awarded the first Michelin star given to a food truck for his Hong Kong Sauce Chicken Rice and Noodle dish. Since then, chefs around the globe have been inspired to roll out their wares in everything from trucks and trailers to Airstreams and buses.
Now the old fish and chip van is quite likely to offer scampi and calamari, lobster rolls and mussels, while beef burgers will be high grade 'Dirty Burgers' on brioche buns, maybe using the much revered and expensive Japanese breed of Wagyu beef.
lucindaosullivan.com
First Published In The Sunday Independent