Restaurant Review - Nannetti's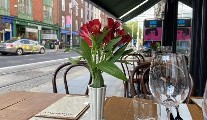 Friday 23 July 2021
Clang, clang, clang went the trolley, ding, ding, ding went the bell, zing, zing, zing went my heart strings... it felt like emerging from hell.
Sitting in a little run of six tables under a green awning by the front window of Nannetti's Restaurant in Dawson Street, as the Luas worked its way noisily by every five minutes or so, I realised how many sounds of the city we'd forgotten in lockdown. Looking down along the street, in the relative quietness of a summer evening, it struck me once again what a fine boulevard it is, boasting Dublin's Mansion House and an array of beautiful Georgian buildings housing small businesses of all types, and thankfully not all yet knocked to the ground to be replaced with office blocks.
Nannetti's had been on my list of post-lockdown 'musts' for a while now. Opened by James Cirillo last year, it has only managed to trade for three weeks in the interim period. James, whose uncle owned the famous and lamented Nico's on Dame Street, already had his cool eponymous Italian pasta/pizza restaurant on Baggot Street before taking over the premises of the former Amuse for Nannetti's.
lucindaosullivan.com
First Published In The Sunday Independent