Restaurant Review - The Winding Eagle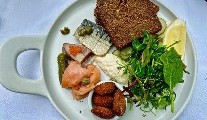 Friday 16 July 2021
On a glorious summer evening, looking down over the Ha'penny Bridge on the River Liffey, I almost — almost! — burst into Dublin can be heaven... I was on the roof terrace that unites The Winding Stair and The Woollen Mills restaurants, and it was so good to be back in the historic heart of Dublin City.
The Woollen Mills was in business for over a century, with Joyce working there at one stage, while The Winding Stair Bookshop became a famous spot in the 1970s.
In 2006, Elaine Murphy opened The Winding Stair as a restaurant, with the bookshop at street level. She also championed Irish food and what she calls "good old-fashioned home cooking". Mind you, I don't remember anything quite so sophisticated waiting for me when I'd arrive home from school to the screech of the pressure cooker almost blowing its gasket.
lucindaosullivan.com
First Published In The Sunday Independent