Restaurant Review - Garden Terrace @ Intercontinental Dublin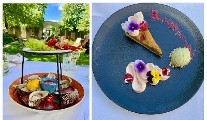 Friday 09 July 2021
Like everyone else, having been deprived of restaurants for so long, I was raring to go once we got the nod that outdoor dining was on. It wasn't just any Monday in June, but the bank holiday, and the date was etched in my brain. I wasn't alone. People rushed online and filled restaurants in a flash of click-and-book enthusiasm. Every inch of outdoor space had been harnessed by restaurateurs eager to ditch the food boxes and get back in the real 'meet, greet and eat' game, and former dreary grey street spaces, which might previously have been sneered at, suddenly became chic al fresco dining venues.
Endless lists of outdoor dining at all levels were published, from trucks to shacks, bistros to gastropubs, hipster hangouts to hotels, but still I ruminated like a novice escaping the convent as to where I would go for my first outdoor dining experience.
I didn't want the hustle and bustle of people hawing over my shoulder in my precious allotted time as I was hurling down a watery cocktail or a glass of plonk, along with a primped-up so-called 'posh' burger, or somewhere that harried staff might be having 'first night' nerves. I wanted something cool, calm and collected; to feel spoiled on my first day back in the fray.
lucindaosullivan.com
First Published In The Sunday Independent