Foodies Fight Back with Lucinda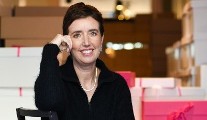 Thursday 08 July 2021
THE GALWAY GOURMETS
Celebrating 20 years in business this year, Michelle and Fintan Hyland's Gourmet Tart Co. was founded as a stall in Limerick's Milk Market. Now they've got six retail outlets, including food stores and delis, and employ 70 people in Galway City.
"The business started as a bakery, selling scones, tarts and traditional Irish cakes," says Michelle.
"We expanded to include croissants, breads, mousse etc. In recent years we've developed a savoury side and now have a busy lunchtime trade in sandwiches, salads, quiche and pies."
In spite of their success, they were hit hard by Covid.
"It definitely offered us the opportunity to stop and think. We closed for nearly four months, and until March 2020 we also had a 70-seater restaurant in Salthill."
In October 2020 they decided to make hampers in their closed restaurant space, delivering nationwide.
"Our original motivation was to keep our restaurant staff in full employment. Our chefs and kitchen staff moved up to the bakery, our floor staff helped with packaging and selling."
lucindaosullivan.com
First Published In The Sunday Independent