Foodies Fight Back with Lucinda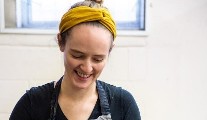 Thursday 01 July 2021
THE CHOCOLATIER
With a culinary pedigree that includes being head chocolatier at Dublin's Cocoa Atelier and pastry chef at Adare Manor leading up to the pandemic, Anna Coffey Lynch launched Braw, a small batch chocolate company and bakery. It has gone from strength to strength, culminating with the recent opening of her shop in Limerick city centre.
"When restaurants closed I found myself without work, but with a restless inability to sit still and wait it out. The pandemic offered an opportunity to take a break from the career I had in front of me and to open my own business," she says.
There were problems to solve. Basics like trying to buy equipment with no shops open, finding ingredients at short notice, even finding the kitchen space was tricky as viewing was not allowed. She also didn't qualify for any Covid assistance.
"Our online sales and social media helped us reach customers. We sent handmade chocolate bars, brownies, flapjacks, bread, cakes and cookies to nearly every county in Ireland, with orders coming from Australia, America and across Europe."
A year later, the business is still growing.
"We've expanded from one kitchen to three and opened a shop on Pery Square, with a secret garden, where we'll soon be doing tea and coffee. We were lucky to have been open throughout all the lockdowns, and were able to find and keep excellent staff. Our community has also been so supportive."
lucindaosullivan.com
First Published In The Sunday Independent