Lucinda's 13 Top Summer Staycation Destinations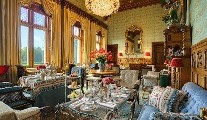 Friday 18 June 2021
Throughout the interminable cold, dark winter months of the third lockdown, we've all been dreaming of the places we want to escape to once restrictions were lifted. For some it means getting on a plane tout de suite to the Algarve, Costa del Sol, Tuscany, Greece or further afield, to stretch out their white, pasty limbs in the sun, drink lots of sangria or ouzo, and get that tan!
For me, who has pretty well spent my life travelling the roads of Ireland, there is nowhere I love more than this beautiful little island, of which I know every nook and cranny. Last year, people may have been reluctant staycationers but, in this enforced 'discover Ireland', many found an island and tourism industry they really didn't know was there.
From Connemara to Cork, Donegal to Kerry and everywhere in between on our Wild Atlantic Way, Ancient East and Hidden Heartlands, they were blown away by the hotels and other accommodations, matched by unparalleled scenery and beaches, food so good that they were spoiled for choice, and, above all, friendliness, fun and value.
lucindaosullivan.com
First Published In The Sunday Independent