Foodies Fight Back with Lucinda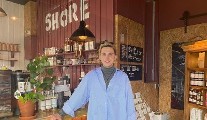 Thursday 17 June 2021
THE COFFEE HUB
The Flanagan family have been running their Family Entertainment Centre in Courtown Harbour, Co Wexford, for more than 50 years. When the lockdowns began, they were at a loss as to how they could generate income, says Nigel Flanagan, to try and pay their costs and retain their staff — until his 16-year-old son Ben came up with an idea.
"I had been working part-time in Square Coffee, a specialty coffee shop in Kildare town, where I really found my passion for small micro-roast coffee," says Ben. "I suggested that we turn part of our premises into a specialty coffee bar and store. At first my dad wasn't convinced, but I persevered and he relented."
With a very limited budget, and lots of upcycled materials, Ben and the staff set to work on opening Shore Coffee. "Thank God! It has been a huge success, not only as an income stream but also as a hub for the local community and a source for lots of local and independent producers to sell their products.
"We are a year open this month and I'm shocked by the support from the local community. I never thought it would be such a success. It has become the local 'go to' spot and it has definitely lifted everyone's spirits during the pandemic that they could get a really good coffee and go for a walk at a coastal location."
Among the products Ben stocks is the Gorey-based Nutorious Nutrition, all the NutShed and Harry's Nut Butter products, Achill salts and salted fudge, and The Real Olive Co oils and vinegars.
lucindaosullivan.com
First Published In The Sunday Independent