Restaurant Review - Lignum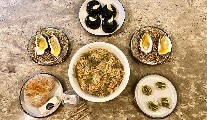 Friday 11 June 2021
Over the years, in Ireland, we've regularly swung from bust to boom and back to bust.
We went from a very modest, uninspiring food base in the 1980s straight into the Celtic Tiger of the 1990s, when I started reviewing. It was an era of 'flash the cash' restaurants reliant on corporate business and over-the-top lifestyles.
This all came crashing down around 2008 with the global recession, but in time we saw a burgeoning of tremendous creativity from chefs and restaurateurs.
lucindaosullivan.com
First Published In The Sunday Independent