A new captain for Chapter One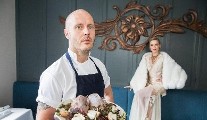 Saturday 05 June 2021
My immediate reaction when I heard that Chapter One was to become Chapter One by Mickael Viljanen was that this would become Ireland's first 3-Star Michelin restaurant. My second reaction was how do I secure a table for the first night!
Not a word had leaked in the usually gossipy restaurant industry before the press release late on Friday evening that, after almost three decades, Ross Lewis was stepping aside from the Chapter One kitchen to make way for the Finnish chef Mickael Viljanen, who in 2019 achieved a second Michelin star for The Greenhouse on Dawson Street.
There is no doubt but that this new alignment will be a partnership that benefits them both in so many ways.
Covid has caused a lot of people to reflect on their lives and ambitions and to maybe do what they've wanted to do for a long time. Viljanen has been dreaming of having his own restaurant, and working for himself.
It's the ultimate ambition for every talented chef; and Lewis after 29 years is excited also about being able to focus his culinary gaze on his Italian restaurant, Osteria Lucia on Clanwilliam Terrace, which he plans to upgrade in the coming year.
Indeed seeing pictures of him during the lockdown on social media putting a pizza in an oven, I thought, he's doing that with a lot of love – so much love that I put in an order for a takeaway to review, when I indulged in delicious pasta enveloped in crab and octopus with a sauce that was pretty awesome.
lucindaosullivan.com
First Published In The Sunday Independent