Foodies Fight Back with Lucinda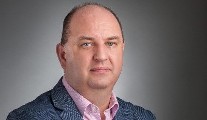 Thursday 10 June 2021
THE HOTEL CHIEF
Sean O'Driscoll is the CEO of the iNUA Collection, an Irish-owned hotel group with nine properties, including the Radisson Blu Hotels in Cork, Limerick, Sligo and Athlone; Muckross Park Hotel Killarney; Kilkenny Hibernian Hotel; Tullamore Court Hotel; Fairways Hotel Dundalk and The Hillgrove Hotel Monaghan. He has also just launched Cliste Hospitality providing management to the hospitality industry.
"We're very excited about reopening our hotels after being closed for 350 days. Pre-Covid, we employed 1,200 people, and this has been extremely difficult for them and their families." After the long autumn lockdown they kept seven of their hotels closed over Christmas as they felt it wasn't viable to open.
"I've been inspired by the drive and attitude of the people I work with, who have just got on with it in the face of adversity. We've undertaken a lot of training with 25 managers taking part in our leadership academy over the last six months, and 12 trainee managers commencing a three-year degree programme with us in association with Munster Technological University."
They're also about to roll-out a new brasserie dining concept at the 4-Star Radisson hotels, as well as in the Tullamore Court and Kilkenny Hibernian, with brunch, all-day dining and afternoon menus created by group executive chef Stefan Matz.
lucindaosullivan.com
First Published In The Sunday Independent