Restaurant Review - Ali Davis Food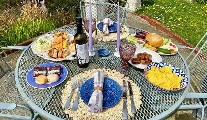 Friday 28 May 2021
I've always had an obsession with picnic baskets. When I was about 12, just old enough to be sniffing around and admiring things in shops, my father won a beautiful wicker picnic basket — the President's Prize in his golf club. It would've sat perfectly in the back of a Jag or a Range Rover to be taken to the races or outdoor events with a good rug and plenty of gin.
It'd been purchased in Weir's, the posh jewellers on Grafton Street, but, as we had an old one, the 'prize' went back and a voucher was issued, which my parents gave to me. I wore them and the Weir's staff out faffing around choosing trinkets.
I always regretted this 'lost' picnic basket but have made up for it every summer buying them in all shapes and sizes, none of which have had any use except a sleek grey Japanese Twinbird box bought 25 years ago. It's toured France many times packed with terrines, cheese and bread. This year, however, to keep up with the Joneses, you'll have to have the new Prada Picnic Backpack at a mere €2,100.
lucindaosullivan.com
First Published In The Sunday Independent