Foodies Fight Back with Lucinda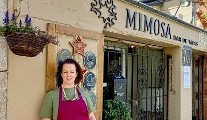 Thursday 27 May 2021
THE ORGANIC VEG FARM
Beechpark Ecofarm and Farm Shop in Clonsilla, Dublin 15, is sowing and growing some of the best produce in the country. It is owned and operated by Neil McDermott with his team, including daughter Éira McDermott and farm manager Dave Taylor.
"I bought Beechpark, the Shackleton home estate, in 1996, and my children grew up there," says Neil.
"Fast-forward 40 years and I decided to get involved in organic vegetable growing due to my love of crop farming and the fact that we're located right on the edge of Dublin, where there is a ready retail market.
"The number one financial obstacle is the cost of labour versus the prices the customer expects due to supermarkets and extensive factory farming. Right now, there's more potential to succeed, or at least survive, as we're in the position of price makers rather than price takers."
Dave ran a few small food and farming enterprises in the UK before moving to Ireland just four months ago and he adds: "I was always met with the same obstacles: customers' expectations for low food prices and the price being more important than where the produce was grown.
"During the pandemic I became farm manager at Beechpark and the situation couldn't be more different. People are stopping to think more about where and how their food is produced."
Having grown up at Beechpark, Éira says it's great to see it being used for such a worthy purpose.
lucindaosullivan.com
First Published In The Sunday Independent