Foodies Fight Back with Lucinda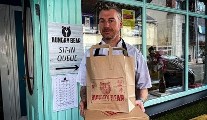 Thursday 20 May 2021
THE CAFE
Having been away from the food industry for a couple of years, chef Ken Reddin opened Hungry Bear in Gorey, Co Wexford.
"I really wanted to return to cooking. I really wanted something I could be proud of and to show my two little boys what a bit of hard work can achieve. We opened in July 2018. It was a rocky start; it took a while to find our feet but the business really began to turn the corner and get very busy in mid-2019. We had a very busy Christmas period and 2020 was looking great."
However, Covid-19 arrived and what followed just seemed to snowball so quickly. "I felt powerless," Ken says. They closed in March and reopened in May doing takeaway food, which proved a great success, and they teamed up with the Bamboo online ordering app.
"I can't lie; it's been a very up and down year. We've opened and closed, had dine in and take out, spent a huge amount of money making everything safe, and have had to constantly react to what's working and what isn't, but we are delighted to be still getting up and going out the door in the morning to work. We've been given lemons and made lemonade."
lucindaosullivan.com
First Published In The Sunday Independent