Foodies Fight Back with Lucinda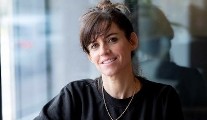 Thursday 29 April 2021
THE CAFE
Dona Watchorne opened her Grove Road cafe in April 2014, beside the La Touche B ridge over the Grand Canal approaching Rathmines in Dublin. Seven years later, she's just opened the cool new Southbank Cafe at the next bridge along, the Robert Emmet, the gateway to the ever more trendy Harold's Cross.
"I lost count of the amount of people who told me nothing works on this corner," Dona says. "Seven years later the reverse is the case; they congratulate me for being the only person to survive and thrive even here."
Having closed initially in March 2020, Dona reopened for takeaways the following month. "It's not in my nature or any business owner's nature, I'm guessing, to keep a business closed when it could be trading. People were so happy to be able to get a coffee and have a chat."
Dona had been retailing coffee-brewing equipment. "Then, I had, what I thought was a brainwave while eating some White Mausu Peanut Rayu at home — 'I think I should sell this'!" She added a grocery retail section to the cafe and sourced mostly local products from independent businesses, then adding some wines, greeting cards and nice little gift ideas.
lucindaosullivan.com
First Published In The Sunday Independent