Foodies Fight Back with Lucinda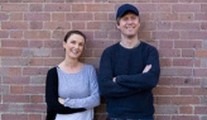 Thursday 15 April 2021
THE SAMBO SUPREMOS
Caterer Adam Fleetwood and chef Eve Whitaker got off to a great start with their Greenville cafe deli in Dublin's bustling Tara Street from autumn 2019 until March 2020 when it all came to a crashing halt.
"We were thrilled with how things started," says Eve. "The nine-to-fivers flocked to us for our hearty sandwiches and homemade soups. We branched into supplying hungry meeting-goers throughout the capital."
However, when the offices all closed, their entire customer base was decimated. Overnight, the city centre became a ghost town.
"'We quickly realised things were not going to get back to normal anytime soon. We needed to innovate, and, with that, a fantastic opportunity presented itself."
lucindaosullivan.com
First Published In The Sunday Independent