Foodies Fight Back with Lucinda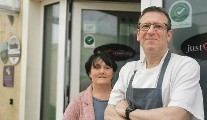 Thursday 08 April 2021
THE COOKERY SCHOOL
Mark and Bernie Doe have been operating their popular cookery school, Just Cooking, in Firies, Co Kerry, since 2007.
"Last year was on track to be very successful, with over 30 group bookings from the USA, many Irish tour groups, and all our classes filling. This all changed on March 14, when the majority of the bookings cancelled within 48 hours," says Mark.
Bernie adds: "We also lost the regular 30 dates nationwide on which Mark had planned to run barbecue classes with Weber grills. Neither could we run our Apprentice Chef programme for secondary schools across Munster this year.
"We had to reinvent ourselves very quickly, and we were fortunate enough to open Bosca Bia in Waterville, an outside venue focusing on barbecue food and pizza, which was very successful for the summer months."
They are grateful to receive funding from Kerry Local Enterprise that covered fixed costs in 2020, which, despite having no revenue, had to be paid.
lucindaosullivan.com
First Published In The Sunday Independent