Foodies Fight Back with Lucinda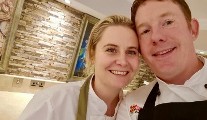 Thursday 01 April 2021
THE CAFE BAKERY
With a wealth of experience behind them, Brenda and Joe O'Hora opened Benny & Co in Ballybofey, Co Donegal, just four years ago next month. Their idea was to provide handcrafted seasonal food, bread and pastries together with the best coffee and tea they could source - and they've more than succeeded, achieving immediate recognition from their loyal customers, as well as numerous awards for their efforts.
"Covid-19 and the restrictions that followed have had a disastrous effect on our business and on the wonderful team we have built," say the couple. "It was very difficult at the beginning as we had no cash flow to maintain our ongoing expenses. We offered a takeaway bakery service twice a week, but as the situation worsened in Lockdown II and became more local, footfall in the town suffered badly and it was no longer possible to maintain any kind of profitable takeaway business."
They have since been offering a takeaway service for special occasions only. "At present, our business has a very uncertain future. Social-distancing measures, going forward, will make it very difficult for us to recover our losses."
VAT reductions and government subsidies have been helpful, they say, but need to be increased for many hospitality business to survive. "What we worked so hard to achieve has been wiped out very quickly. The price of keeping people apart has been very costly to us. However, we believe strongly that with the right support, and the help of our team, we can recover and come back even stronger."
bennyandco.ie
THE CASTLE
The stunning Glen of Aherlow and Galtee mountains form an impressive backdrop to John and Teresa Russell's Bansha Castle in Tipperary, one of the most beautiful self-catering locations in the country.
"When Covid became a stark reality, we saw our business disappear. Our lovely full calendar for 2020 emptied within a couple of weeks," says Teresa. Though virtually all of their loyal clients rebooked for this year, sadly they've had to be cancelled again, with most rescheduling for 2022.
lucindaosullivan.com
First Published In The Sunday Independent