Restaurant Review - No.1 Pery Square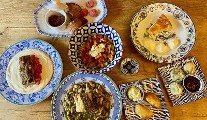 Friday 02 April 2021
Last week, I mentioned seeing people on Twitter waxing lyrical about the places they'd like to visit when things finally get back to normal. Well, 2020's staycation summer introduced some people to parts of Ireland they'd never been to – west Cork, Kerry, Dingle, Clare, Sligo, Connemara and Donegal. More accustomed to hopping on a plane to Lanzarote or the like than heading south down the M7 or west on the M4, these newbie staycationers were blown away with what they experienced by way of fun, food, and a standard of hospitality they had simply never expected. Unsurprisingly, people have been snapping up their accommodation well in advance for this summer.
People do, of course, dream of 'foreign parts', as my old grand-aunt used to say, and who can begrudge them long, blissful days on a sunny beach, or a meandering drive through wineries in France, as we like to do, with lots of fun foodie experiences along the way?
Patricia Coughlan, of the splendidly elegant No 1 Pery Square in Limerick's Georgian Quarter, has captured that zeitgeist with an exciting new food box that can be delivered nationwide.
lucindaosullivan.com
First Published In The Sunday Independent