Restaurant Review - Beach House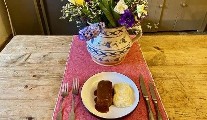 Friday 26 March 2021
If Muhammad can't go to the mountain, the mountain has to go to Muhammad. It's as simple as that for businesses across the board in this pandemic. For over 25 years, I've been going to the mountain, speeding around the country in search of new restaurants to review.
I was thinking about this recently as the daffodils began springing up and I realised that my wanderlust may go unsatisfied for some time.
While we've been very lucky in Dublin with a terrific choice of restaurant food boxes and meal kits, I see people on Twitter every day ruminating on where they want to go when things open up again. Foreign travel apart, they romance about the crab they had in Donegal, or the lobster and lamb in Kerry, the great big Dublin Bay prawns in east and west Cork, the oysters in Clare and Galway.
lucindaosullivan.com
First Published In The Sunday Independent