Foodies Fight Back with Lucinda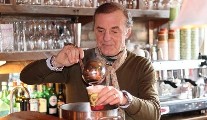 Thursday 11 March 2021
The Pub
Lock 13 Brewpub, situated on the banks of the historic Grand Canal in the picturesque village of Sallins, Co Kildare, has been in the Flanagan family for more than 25 years and is the younger sibling of Silken Thomas in Kildare town.
Barry Flanagan and his wife, Ola, told me how their business has been coping with the Covid-19 pandemic.
"We'd opened our microbrewery, Kildare Brewing Company, in 2017, so when we closed our doors last March, we were left not only with a closed brewpub but with a brewery that needed to shift quickly," says Barry.
They switched to click-and-collect offerings throughout 2020, and luckily they'd invested in their own can-filling and seaming machine the previous year, which helped them keep up with all the orders for their fresh, local premium beer.
"When we opened our doors in July, the summer season was busy with people walking and cycling along the Grand Canal. Then we had our own Kildare lockdown, which knocked us back again, but fortunately we were able to seat customers for outdoor dining on our Hop Terrace."
On the brewing side, they had time to focus on different options of fermented foods, which led them to setting up ProKulture Organic Kombucha, which is available in 145 Aldi stores nationwide.
"We are firm believers that every cloud has a silver lining and we will keep changing and adapting our business model, but we need the Government to give our industry a concrete roadmap as we are losing not only businesses but key staff members who cannot see a career in the hospitality sector.
"We are resuming our click-and-collect services shortly for March, and we are raring to come back fully when times allow. We also have a number of new projects that we are working on to come back with a bang."g
lock13.ie
The Chef
Having won 'Chef of the Year', among many awards, Sunil Ghai is one of Ireland's best-known chefs. With his wife Leena, he owns Pickle restaurant in Camden Street, Dublin; Tiffin in Greystones, Co Wicklow; and the more recent Street takeaway in Clonskeagh, Dublin.
"After the shock of March 2020, we regrouped at Pickle and began to offer takeaways. It was trial and error initially as we didn't know whether being in the city centre would be a barrier for us." However, when they started to offer delivery, things picked up.
lucindaosullivan.com
First Published In The Sunday Independent