Restaurant Review - China Sichuan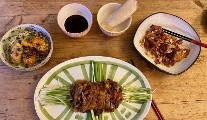 Friday 05 March 2021
With Valentine's over, the next two big days aren't until March - St Patrick's Day and Mother's Day. In times like these, however, we need any excuse to give ourselves a lift with a bit of celebration, albeit in a more restrained manner than usual. Never fear, there's a festival going on right now. In fact, we're in the middle of one the biggest festivals in the world, the Chinese New Year or Spring Festival, which is celebrated globally for 15 days. It's a bit like our Christmas in that, usually, prior to Covid-19, Chinese people would traditionally return to their families to celebrate it.
The festival follows the lunar calendar, but it usually falls between mid-January and mid-February, and is defined by an animal sign with its own particular characteristics.
Chinese New Year's Day this year was February 12, but the festivities don't end until the Lantern Festival next Friday, February 26, in which people go out and look at the moon, send up flying lanterns and enjoy a meal together.
lucindaosullivan.com
First Published In The Sunday Independent