Restaurant Review - Le Perroquet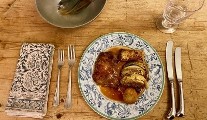 Friday 26 February 2021
The English novelist and biographer Nancy Mitford was obsessed with class - the upper classes, that is. Coming from the minor ranks of British aristocracy, she wrote stingingly observant books in the 1940s and '50s on the aristocratic goings-on of the day, including The Pursuit of Love and Noblesse Oblige. The latter contains her essay The English Aristocracy which popularised the concept of 'U' and 'non-U' (upper class and non-upper class), and became the bible of 'good manners' for generations of 'Hyacinth Buckets'.
Mitford also had a great fascination with the French, living (and dying) in Versailles with her lover, one of General de Gaulle's wartime team; writing a biography of Madame de Pompadour, chief mistress of King Louis XV; and of other romantic historical figures.
Paris's reputation of being the city of love and romance attracts the ordinary and the rich and famous in equal measure from all over the world. It's a beautiful city with an extraordinary history, both happy and tragic.
lucindaosullivan.com
First Published In The Sunday Independent