Foodies Fight Back with Lucinda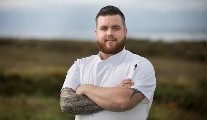 Thursday 25 February 2021
The Caterer
Having worked in New York at high-profile catering companies and a Michelin-starred restaurant, chef Ryan Fitzpatrick returned to Ireland where he has worked in various five-star resorts, most recently at Adare Manor.
Ryan told me recently about his Co Clare-based Wild Catering Company. "After moving home from New York due to the Covid pandemic, and having time to reflect on what direction I wanted to take my career, I began to see a gap in the market in the West of Ireland to provide bespoke catering experiences for people to enjoy in their own homes. Basically, born out of the first lockdown, we started to grow our brand pretty fast - actually a lot faster than we expected."
With just a couple of local deliveries and collection points to see how it would go, they started 'Wild at Home', a three-course meal for €30 per person, cooked and chilled, delivered with all instructions and a video on social media platforms. This has been a huge success and they now have multiple collection points, including Galway.
"Covid has been bittersweet - because we had planned to open our cafe Wild at the Cave in Doolin on December 28, and we had the stock ordered, the staff hired and were all ready to go full steam ahead with our exciting new venture... only to see a lockdown close everything down once again.
"It has given us the struggle of continuously reinventing our business plan so we can make a living to meet the needs of our community. Luckily, our Wild at Home offering has become very popular and we are able to keep the show on the road, and will do so until lockdown is lifted. In the meantime, we are planning to open the cafe for takeaway once the numbers start to ease. This is obviously going to be another challenge that we face, opening a cafe mid-lockdown, but we are determined and optimistic about this exciting new venture."
wildcatering.info
lucindaosullivan.com
First Published In The Sunday Independent