Foodies Fight Back with Lucinda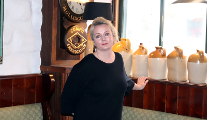 Wednesday 17 February 2021
THE GASTROPUB
The O'Crowley family's An Súgán has been a bastion of good food in Clonakilty, Co Cork, for more than 40 years. Sinead O'Crowley tells me how they've been coping in the pandemic.
"My mum and dad set up An Súgán in 1978. I've been involved since 1997. Over the years, we've expanded to include a guesthouse and a cafe called Aris. It's where I grew up, I look on it as my home. Closing the doors last March was very emotional. There was and still is a very real worry for those who have worked for us, but staff, suppliers and customers have been very supportive and loyal."
After reopening in July, they had a busy season, with some Irish people visiting for the first time - and local support, Sinead says, was amazing.
"I tried to take the positive from the first lockdown as it gave me time with my boys and time to look at the business, but I always knew that a lockdown in January would be hard mentally, and my anxiety has suffered. There have been days when you lose hope. To try and keep focus, we are redecorating and continually discussing menus, while also walking the roads. I believe we'll have a good summer in 2021, but I feel the Government needs to be formulating a reopening plan and it needs to be delivered to us in time. We need adequate notice regarding a reopening date, and we need the voices of those who work in the industry, day in day out, to be heard, especially those in rural Ireland. An Súgán is part of a wider community in Clonakilty and it's businesses like ours that sponsor local drama festivals, buy the bags for our children's GAA teams and support and organise the myriad of small festivals at the heart of small communities."
ansugan.com
THE CHEF
Having worked in the US, Donegal chef Gary O'Hanlon returned to Ireland as head chef at Viewmount House in Longford where for more than a decade his superb food drew visitors from all over the country. He's also a familiar face from TV's The Restaurant.
"Currently, I'm head chef at Chateau du Coudreceau, a private golf estate on 200 acres in the Loire Valley," says Gary. "It's a small team on-site, generally 18-20 people. Niall Carroll is our GM, Eanna Hassett our director of hospitality, while Mark Heffernan is head greenkeeper."
lucindaosullivan.com
First Published In The Sunday Independent