Foodies Fight Back with Lucinda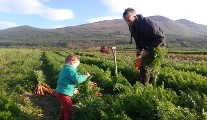 Wednesday 10 February 2021
THE VEGETABLE SHOP
Having recently opened for business in Listowel, Co Kerry, Aidan O'Connor told me how opening a vegetable shop in the middle of a pandemic came about.
"I grew up in the beautiful Maharees, Co Kerry; a tombolo that stretches 5km out into the Atlantic. The unique sandy soil of a tombolo is ideal for growing vegetables and adds a very distinctive taste. The Maharees carrots are known all over Ireland and beyond. Our hens and ducks forage outside all day long - the eggs are literally the definition of 'free range'."
Aidan produces on a small scale for local customers around Castlegregory, at Tralee farmers' market, and in his new Listowel shop. "Covid-19 had a huge impact on my business with the closing of farmers' markets in March. I was left with no outlet and no income. The prospect of losing the remainder of my crops was a real worry. I had to think of something, I had to fight to keep my customers. I tried a pre-order system, reaching out on a weekly basis and delivering customers' order directly. WhatsApp, Facebook and Instagram were my saviours here, with this system working well in Tralee but not Listowel. So our shop in The Square was opened. One positive of Covid-19 is that people are more and more conscious about where their food is coming from, opting to buy local produce directly from the grower. For this reason, I will be expanding my range in 2021. The support local businesses have had for each other is also heightened as a result of this pandemic. Hopefully this will live on well after Covid-19 has passed."
facebook.com/aidanoconnorfruitandveg
THE JAM MAKER
Based on the family farm in Ballingarry, west Limerick, Theresa Storey and her family operate The Green Apron, producing a comprehensive range of preserves which they've been selling at Limerick's fab Milk Market since 1977, and for which they've won seven Great Taste and 15 Blas na hÉireann awards. They also hold workshops on sustainable living, lead walks on ethnobotany and foraging, and are also brewing up a tea side to the business with leaves grown on their own farm.
"When lockdown came in March and the Milk Market closed, our income pretty much disappeared. For the first few weeks I dithered around in shock. Then I threw myself into growing to keep my hands and head busy."
lucindaosullivan.com
First Published In The Sunday Independent