Restaurant Review - Roly's Bistro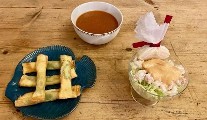 Thursday 04 February 2021
Roly's Bistro came about in the early 1990s when a small group of restaurant industry people were having a few jars after a golf outing, speculating on the ideal location for a restaurant. The idea took wings. They found their dream location in the heart of upmarket Ballsbridge and, basing it on the great Parisian brasseries like Bofinger and La Coupole, opened what is now one of Ireland's best-known restaurants. It's where many Dublin families, including my own, have celebrated confirmations, graduations, birthdays, anniversaries and more. The French-style food is superb, and I've never heard anyone say they'd had a bad meal at Roly's.
While the menu varies from visit to visit, two items that have remained unchanged since day one are the Kerry lamb pie- which Terry Keane always had when we went there - and their superb Dublin Bay prawns. As a girl brought up on Dublin Bay prawns from Howth and Skerries, I'd sell my soul for them. Anything else is but a poor imitation.
Down the years, the dynamics changed somewhat at Roly's, but it's still in the hands of one of those original golfers, John O'Sullivan, and his wife, Angela; with Paul Cartwright as chef de cuisine and director. Paul is a legend in himself. He trained in Ireland and France, climbing to the position of head chef at London's Savoy Hotel, working also with Anton Edelmann at the three-star La Tante Claire, before returning to head up Roly's, where he's been at the culinary helm for over 25 years.
lucindaosullivan.com
First published in the Sunday Independent