Foodies Fight Back with Lucinda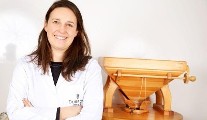 Wednesday 03 February 2021
THE MILLER
Lisa Larkin set up Durrow Mills in Westmeath in 2017, producing organic stone-milled grains. "To date, we have a range of five retail and seven wholesale flours, including wheat, rye, buckwheat and spelt. In late 2018, we added a small bakery, specialising in organic sprouted sourdough breads."
They were gaining traction both at home and abroad, but then Covid arrived. "Overnight, over half the sales in our food service customer base dropped, resulting in a temporary closure of the bakery. In tandem with this, there was a dramatic spike in online sales, and, with home-schooling four children, there was a lot of pressure on both business and home life. It was down to the patience and understanding of our customers that we were able to get back on track and fulfil all the demands of the country's budding bakers."
Last year was a rollercoaster, but Lisa believes her company is stronger and better prepared heading into 2021. "Our business has pivoted a lot in terms of where our sales are being generated but continues to go from strength to strength. We're working with some European companies, and in summer we expect to be releasing some innovative new retail products.
"Throughout Covid, Irish food and its quality have come to the fore. 'Look for Local' has become a real movement, and it's great to see so many artisan products taking off. We've another while to go before we see a return to normality but I think the Irish food sector has been taken into the hearts of Irish people and will continue to thrive."
durrowmills.com
THE NOSH POD
With their delightful food pod on the Northern Extension on the edge of Waterford, Ann Dolan and Larry Lynch captured the imagination of the city's denizens, and those who regularly travel south, serving delicious and imaginative food to go and the best sourdough toasties in Ireland.
"When we reopened in June, we found ourselves in the midst of new controls and regulations. The advantage of our style of cafe is we were already outdoors and scheduling customers a few minutes apart as all our food is made freshly to order," says Ann.
lucindaosullivan.com
First published in the Sunday Independent