Restaurant Review - Coal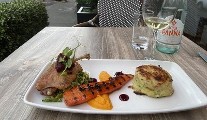 Thursday 28 January 2021
I'm not used to dining toute seule at the best of times, not to mention on the sidewalk, as our American cousins say, giving every passerby the opportunity to rubberneck at my plate. It was an interesting perspective from my point of view too, watching people's reaction to the menus posted outside Coal in Blackrock, Co Dublin. "That's new... looks nice... cocktails too."
"I was reading the menu out loud for you," one woman bleated as a disinterested partner marched on with the stroller. Best of all were the two millennial ladies in their de rigueur smart walking gear, puffer jackets and beanies. "Steaks," said one dismissively. "It'd be alright for the children."
"Actually," said I, startled by the pretentiousness, "I've just had a rather nice Parmesan and pea risotto to start, followed by confit duck."
lucindaosullivan.com
First published in the Sunday Independent