Foodies Fight Back with Lucinda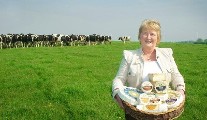 Wednesday 27 January 2021
The Butcher
In 1892, having received a bad cut of meat from a local butcher, Callaghan McCarthy put away his dough hook and opened the now-legendary McCarthy's of Kanturk. His descendants, the ebullient Jack McCarthy and his son Tim - the fifth-generation butcher in situ - are as enterprising as their antecedent.
"Standing at the front door of our shop on Main Street, Kanturk, at the height of the first Covid lockdown, it hit me that no other door was open or trading on our street. Two lockdowns later, we're in the same position. Footfall has fallen dramatically. A decade of hard work carving out a niche within the food service trade with our breakfast products was closed en masse. We were hit hard," says Jack.
Luckily, in 2008 they'd developed an online shop so they immediately ramped up this service by adding click and collect, free local delivery, nationwide delivery using couriers, and increasing the number of products available.
"We're so proud of our locale and have always sourced our animals here," says Tim. "We started to champion this local connection, branding the farmer and their product, including native Irish breed Dexter cattle, more visibly, which has opened more local suppliers' doors. Adapting to survive is what every small owner-driven business has to do, especially in rural Ireland. Many small traders, restaurateurs and family businesses like ourselves have been decimated financially and their plight ignored.
"The recovery for businesses won't be a vaccine but an investment led from Government and support from the people who want to see rural Ireland survive and prosper."
mccarthysofkanturk.ie

The Cheesemaker
The Maher family are fourth-generation farmers at Cooleeney Farm, outside Thurles, Co Tipperary, who began making cheese in 1986.volume is Breda Maher tells me how Covid has affected them. "As we started 2020, the future for Cooleeney Cheese looked great, with lots of plans to move forward. By the end of March, the dreams and hopes for 2020 were on pause.
"Covid had arrived and our business took an immediate hit, with a 52pc drop in sales. Our cheese stocks were high and it looked like we wouldn't find a market for this cheese. We felt shocked and frozen and simply didn't know which direction we should turn."
Breda says their first thoughts were for their loyal staff who've been the backbone of Cooleeney Cheese over the years. Thankfully, with the wage subsidy scheme, they held on to their full-time staff. With production reduced to 50pc of normal, they started planning for the future while waiting anxiously to see an improvement in sales. "In September, things were looking up and with Christmas coming we hoped we'd be in a better place for Q4. We were, and are, so grateful to our many customers who made this happen.
lucindaosullivan.com
First published in the Sunday Independent