Restaurant Review - Casper & Giumbini's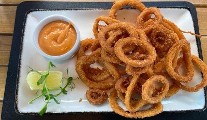 Thursday 21 January 2021
A recent crisp, bright Saturday morning seemed the perfect time for a relaxing al fresco brunch by the sea - god knows, we haven't been able to have many of those lately. "Are you nuts? It's freezing," said Brendan, which I pooh-poohed as I set off with Yukio for Casper & Giumbini's in Dún Laoghaire - which has a section of the outdoor eating space shared by the run of cafes and restaurants along the Pavilion Centre.
Casper & Giumbini's is owned by brother and sister team David and Kim O'Driscoll, whose Irish-American father shook up the casual-dining scene in Dublin in the 1970s/80s when, along with his brother Kevin, they opened Murph's in a basement in Suffolk Street. A few years later, they opened the original Casper & Giumbini's on Wicklow Streeet, a sassy club-style restaurant, which had telephones on each table to order drinks, or flirt with diners at other tables.
This time around, it's a large Franco-American-style brasserie with red leather banquettes and booths serving a much-loved menu of classic favourites, including prawn cocktail; French onion soup; Caesar salad; wings; burgers; Dover sole on the bone; Dublin Bay prawn scampi; plus chargrilled dry-aged steaks, including fillet, sirloin, rib-eye, cote de boeuf and chateaubriand for two people.
lucindaosullivan.com
First published in the Sunday Independent