Foodies Fight Back with Lucinda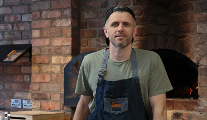 Wednesday 20 January 2021
THE LOBSTER MAN
I first met The Lobster Man, aka Michael Barrett, a few years ago in Midleton Farmers' Market in Cork, where his lobster rolls and whole lobster were going down a storm.
"Building on my existing food business, my 2020 plan included an option to expand my existing lobster-roll food stall in the Midleton market on a Saturday to the slightly larger enterprise of a fish-and-chip food trailer," he says.
Michael's food trailer was all ready to go when the pandemic hit, but he was determined to forge ahead despite all the new demands and challenges.
He adjusted his plan by simplifying his menu, prioritising simple, local, high-quality ingredients that were easy and reliable to obtain, and respecting travel restrictions.
"The fish is sourced from Ballycotton Seafoods in East Cork, which, in turn, is supplied from Irish fishing boats. The chipper chips are supplied by the renowned Walls Honest Chips, also local," he says.
In addition, Michael has his own fishing boat which helps him source some of the season's lobsters.
"I envisage selling my 'made-to-order' fresh fish and chips on Friday evenings for the majority of the year, adding Sunday afternoons for the spring/summer season.
"Based on the fact that food takeaways will be the new norm of eating out in 2021, I plan to build on my existing customer base to include catering events, dependent on future restrictions."
See facebook.com
THE BAKER
Eoin Cluskey captured our imagination in 2018 when he turned the fairly dreary Pearse Street in Dublin into an uber-cool destination with his Bread 41 bakery and cafe.
"Our mantra since Covid originally hit in March was 'the cavalry is not coming'. We looked at our affected client base and between direct and wholesale customers we were forecasting a drop of around 46pc into April, May and beyond," he says.
"Given that drop, we relaunched our website to drive online bookings direct. Thankfully we stabilised the business, reducing the drop in sales to 26pc throughout the summer, and, since then, the online side now represents 30pc of our sales."
In September, with support from Enterprise Ireland, they were able to invest in a new production facility, the Bread 41 Lab concept, which comes online tomorrow.
"We are targeting a new range of products and are super excited about the opportunity this affords us," Eoin says.
"Dublin city centre is very quiet and will be until such time that the vaccine has reached over 70pc of the population, but there is a growth opportunity around going local and hitting suburban areas such as farmers' markets with our new mobile unit, a retro 1950s electric vehicle. This is a toe in the water for us without the overheads of investing in a full-blown unit.
lucindaosullivan.com
First published in the Sunday Independent