Restaurant Review - Little Forrest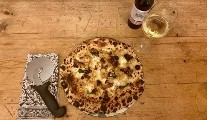 Thursday 14 January 2021
What are we going to be eating in 2021? That's what chefs and punters are wondering right now. Having been denied access to socialising and dining in lockdown 2.0, many will have loosened their belts and had a restaurant binge in the run-up to Christmas.
Now, however, we are in the colder days of January, with many wondering what price we'll have to pay for the Christmas frivolity by way of restrictions. Until we've all had our vaccine boxes ticked, I reckon we'll be on a similar path, but I'm hoping that by May, there really will be a light at the end of the tunnel.
Many restaurants chose not to reopen for the short burst before Christmas and instead kept doing what had been working for them, from hampers to boxes to takeaways.
lucindaosullivan.com
First Published In The Sunday Independent