Foodies Fight Back with Lucinda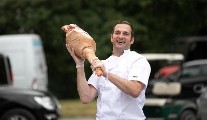 Wednesday 13 January 2021
Andrew Rudd owns Medley, a superb private dining and events centre in Dublin's Fleet Street, as well as managing Ballintubbert House Gardens in Laois and Wells House in Wexford.
"Sadly our bookings were decimated for 2020," Andrew says. They would normally do 60pc of their turnover in the final three months of the year with up to 65 events, but these were cancelled or postponed. However, they're also getting strong bookings for this year.
"We've been working very hard to try retain staff and stop the 'cash bleed' since March. In addition to trying to save our business, I've been looking at other ways to generate new opportunities in the future. For instance, I've set up Medley Experiences, which specialises in bespoke trips and holidays in Ireland, specifically looking at The Ancient East, The Wild Atlantic Way, and boat holidays in The Hidden Heartlands. I've established a partnership with Silver Line Cruisers in Banagher and we've started selling holidays for 2021.
"We're also looking to have tailor-made holidays in a villa in Provence, where we arrange airport transfers, a chef, housekeeping and day trips around the French Riviera."
Andrew is also launching bean to cup coffee machines for employees working at home, which they'll install and supply with regular shipments of Medley's own blend.
lucindaosullivan.com
First Published In The Sunday Independent