Foodies Fight Back with Lucinda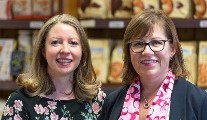 Wednesday 30 December 2020
Little Italy, in Smithfield, Dublin, was founded over 40 years ago by Sylvester Rabbitte and Anna Senezio, who met in O'Connell Street's famous Pillar Ice Cream Parlour - then owned by Anna's parents. They are no longer with us, but it is still a family business run by their daughters, Bettina and Marisa.
"Due to the pandemic, our business changed overnight, with our wholesale business decimated by the restaurant closures," Bettina told me.
"We had to diversify and invest in our website to make it more user-friendly as we had a lot of demand for our products. With people at home, it was great to see them cooking from scratch and tagging us in their creations. It's very hard to watch people queuing outside until it's safe to allow them in. Our loyal customers have been so patient. The weather has been kind so far, but we provide umbrellas if it's raining. We also take advance deli counter orders to minimise the queue."
They've maintained their workforce throughout the pandemic and their sales team are always on hand to offer recommendations. With the recent addition of well-known sommelier Martina Delaney to their team, they're also planning to provide virtual food and wine courses in the new year.
"It's very hard to forward plan as we have two divisions to our business - wholesale and retail. At the moment, the retail is keeping us going," Bettina said.
Little Italy delivers nationwide and also to the United Kingdom. It provides free delivery in Dublin 1 to 8 for orders over €50 and has also set up a click-and-collect point in the car park.
lucindaosullivan.com
First Published In The Sunday Independent