Foodies Fight Back with Lucinda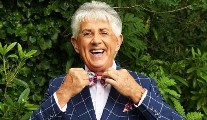 Tuesday 22 December 2020
"I was born with hospitality in my heart and the tenacity of a man of the western seaboard whose ancestors have salt in their blood," says TV personality and hotelier par excellence Noel Cunningham.
"After a career in hotels, mainly in the UK with Trusthouse Forte, my return to Donegal was due to circumstances beyond my control. However, it opened a new chapter as GM at Harvey's Point Hotel in exciting times where I enjoyed a wonderful period of success. Semi-retirement, with a new role as an ambassador for Harvey's Point, and the great honour of the award of Donegal Person of the Year, was such a gift to allow me do so much for the county, but, alas, timing is everything. Along came Covid."
Noel remained active in his approach as the pandemic took hold. "Foremost in this is to capitalise on the huge positivity garnered by staycations. We had people from all over the island come to Donegal. We featured as a good news story almost daily… and it was the year Donegal was 'discovered'. We are no longer the forgotten county in the back of beyond."
Recent broadcasting by Nationwide from Donegal might've seemed like bad timing, he says, but rather it was "a godsend". "With the positive news on vaccines, we're on the cusp of getting Covid under control. Next year may start sluggish, but positive change will be rapid and effective. It'll be a few years of unprecedented growth and domestic tourism to begin with. This will be enhanced when international travel opens up again. We must be positive and upbeat."
lucindaosullivan.com
First Published In The Sunday Independent