Foodies Fight Back with Lucinda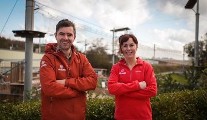 Thursday 17 December 2020
THE ADVENTURE PARK
Founded by Faye and David Bohan with their father Tim, Wildlands in Moycullen, Co Galway, opened its gates in August with more than 20 acres of fun and adventure, including zip 'n' trek courses, archery, 'Disc Golf' and bushcraft, plus beautiful lakeshore and woodland walking trails, and cute fairy trails for kids.
In October, they opened their Olive Tree Kitchen restaurant, currently takeaway only, with a great menu of pizza and other hot dishes, sandwiches, salads and sweet treats. Although not yet open to the public, there are also four self-catering cabins, with plans to develop 11 more.
Wildlands also has lots of exciting indoor activities, with climbing walls, yoga, sports halls and more but these were restricted by the pandemic.
"It's been hugely tough on the business and brand in its opening year," says Faye. "We had limited use of the yoga room and sports hall, but then Level 3 ruled classes out. When Level 5 was introduced, the entire Wildlands offering had to close. It's obviously not where we wanted to be less than three months after opening, but it is what it is. Our approach is to stay positive and remain focused on our mission. Public support and feedback has been phenomenal, considering what the year has thrown at everyone."
lucindaosullivan.com
First Published In The Sunday Independent