Foodies Fight Back with Lucinda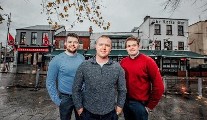 Thursday 10 December 2020
Richard Costello Snr, with his mother Jackie, set up The Locke Bar in Limerick in 1989, and it is now a veritable institution.
The Costello family - Richard Snr, Anna, and children Tony, Richard Jnr, Kate, Jack, and Alex - are the very definition of a family run business, with everyone working in the bar and restaurant over the years. Before Covid hit, Tony was running his own pub, Katy Daly's, while Richard Jnr and Jack were running The Locke with their dad.
Richard Jnr received his culinary education in Ballymaloe in 2011, followed by Ferrandi Culinary School in Paris, before heading to the Michelin-starred La Fourchette du Printemps. He went on to work in kitchens around the world, and, while doing so, developed a fascination with the perfect burger.
lucindaosullivan.com
First Published In The Sunday Independent