Foodies Fight Back with Lucinda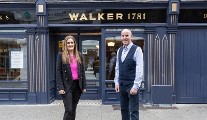 Friday 04 December 2020
THE GASTROPUB
Restaurateur Joe Grogan and his business partner, chef Grainne Sheridan, are a well-known culinary duo in the north-west area. Having been at Luna in Dromahair, Leitrim, for a few years, they relocated back to Sligo in March 2019 and set about transforming an old pub building into Walker 1781, to open in December 2019, but that got held up.
"We had huge interest in our new venture, the bar and restaurant was looking good, and having 20 staff hired in early March, we were all ready for our grand opening on St Patrick's weekend. Covid struck. It was such a blow to have to let our newly hired and trained staff go," says Joe.
They started doing takeaways from their front door during the first lockdown. This was hugely popular and, at the end of June, they opened their doors. To their delight, they were full nightly for four months - though, with restrictions, nobody could sit at their lovely new bar counter.
"It was such a heartbreaking body blow to have to close once again in October. What next? Dust yourself down and get up. Grainne and I are at our stall at the front door doing take-outs."
lucindaosullivan.com
First Published In The Sunday Independent