Foodies Fight Back with Lucinda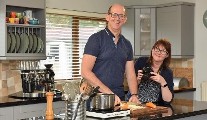 Thursday 26 November 2020
THE CHEF
Like so many, this pandemic has had a devastating impact on well-known chef Brian McDermott and his family. Having put their hearts and souls into their wonderful family run hotel & restaurant, The Foyle, in Moville, Inishowen, Co Donegal, they were forced to watch as it became another casualty of Covid.
"Our business was simply too young to survive the closures," says Brian. "We had to make 26 staff redundant, some who were great industry friends. I walked through the hotel almost every day for the first two months until, one day, I began vomiting uncontrollably - only to realise the effect the situation was having on me, my wife Brenda and daughters, Niamh and Aoife. This was to be our future in our town. Thanks, Covid."
To cope, Brian began sea swimming. "I've entered the water every day since Covid. It gives me space and has saved my mental health. I also have to mention the daily calls and support from our great friend Neven Maguire. This man goes over and beyond."
Bouncing back, Brian started producing video recipes, which led to online webinars and coaching for Blas na hÉireann and its clients.
"I'm about to relaunch my website with a complete transformation of services for delivery online. I'd never have thought virtual cookery classes would work, but they literally bring people live into your kitchen from anywhere in the world."
Brian's stellar reputation as a TV chef and author precedes him, and he certainly won't be disappearing from the public eye. "I'm lucky to have some great media platforms which I enjoy contributing to, and I've also begun work on a new book with O'Brien Press. From lights, camera and action to the online platforms, Brenda has been my rock and is fully involved with all that I do."
chefbrianmcdermott.com
THE DISTRIBUTOR
Gleneely Foods in Dublin is a family business founded over 30 years ago by South African Percy Covitz and his wife Anne, when they bought a little van and started importing cheese from France. Now, with son Michael and daughter Grace Ryan on board, they employ 15 and have a product portfolio of over 120 lines - from cheese to herbs, spices, oils and pasta.
"Considering our business had been 100pc reliant on supplying produce to food service and hospitality, Covid-19 had the potential to severely impact us," says Grace. "However, we've always had an eye on what's coming down the track, whether it be changes in food trends or, more recently, planning for the threat of a no-deal Brexit.
"Michael had the mammoth task of managing stock levels at the beginning of lockdown. It was critical to survival to be able to fulfil remaining customers' orders while not carrying too much product. Rather than laying staff off, we reduced hours equally. So, as we move through 'levels', we have more flexibility."
They've now pivoted to an e-commerce platform to sell direct to consumers, which they'd been keen to do for a while.
"It wasn't a direct reaction to Covid, but it spurred us on. Customers can now order delicious, mainly Irish produce, direct from us to their door to gift to loved ones, or reward hard-working employees."
gleneelyfoods.com
THE RESTAURANT
Aashim Bajaj is the owner of the popular Cinnamon Garden Indian Restaurant in Ashbourne, Co Meath.
"None of us escaped the impact of Covid-19," he says. "The hard work of our fantastic staff is essential to our success, and laying off people who've stood by me for years is very hard to do. The pandemic has shown me the value of good communication with my suppliers and the loyalty of my customers. It has made me reflect on the things I can control and the things I cannot."
lucindaosullivan.com
First Published In The Sunday Independent