Restaurant Review - Liath To Go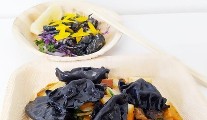 Wednesday 25 November 2020
'Just knock three times and whisper low, that you and I were sent by Joe' - these words from Hernando's Hideaway, the song about a fictional speakeasy back in the 1920s Prohibition era, came to mind in these pandemic times, as I arranged to pick up Damien Grey's first street-food offerings through a hatch at his Liath restaurant.
If ever anyone has pivoted, to use the overused word du jour, it's Australian chef Grey, who first grabbed the notice of the Irish food scene, in what now seems like another world, way back at the start of 2016. Dear god, I do have to pinch myself. Is it really only four years since he and Andrew Heron opened Heron & Grey in a 22-seater one-time 'greasy spoon' in Blackrock Market?
The premises had been tarted up before by James Sheridan and Soizic Humbert. Spotting its potential, and the swing to high/low dining of superb food in offbeat locations like markets, trailers and shacks, they had opened Canteen, which, even with an outside loo, was a joy. But when they decided to move nearer to their home in Celbridge - they're now at the Marlin Hotel - Messrs Heron and Grey entered from the wings.
lucindaosullivan.com
First Published In The Sunday Independent