Foodies Fight Back with Lucinda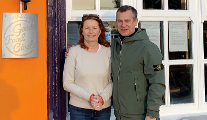 Wednesday 18 November 2020
The Caterer
Running her superbly stylish catering company from the heart of D4, Alison Davis told me how she has been hit by Covid-19.
"Usually catering for an average of 100-plus guests, our business was dramatically affected. We were due to feed 1,500 mouths in the second week of March but our bookings were cancelled overnight."
From then until June 29, when restrictions eased, Alison didn't bill one customer.
"When restrictions eased mid-summer, we focused on smaller private parties, which the business was built on, but we had gotten to the point of normally only catering for a minimum of 40 in your home - obviously that had to change. It was like starting over in so many ways. We were relatively busy in late June/July but the latest restrictions have eliminated this business."
Ali has launched a number of new products, including a luxury selection cakebox, plus grazing boards that can include charcuterie and farmhouse cheeses, crudites and homemade hummus, or a very popular sushi selection.
"We are also soon to launch a Sunday lunch option, ranging from traditional roasts to other wholesome family meals. These options are focusing on four to six people, as we don't see much change in the next six months," she said.
"For Christmas, we will be providing the full spread or you can just pick up your veggies and gravy if you want to make your life easier."
alidavisfood.clickandcollection.com

The Gastropub
Pearse and Mary O'Sullivan own The Bulman gastropub and Toddies restaurant facing the pier at Summercove, Kinsale, Co Cork.
Pearse has hospitality in his blood. His grandfather was the legendary Toddy O'Sullivan, who reigned over the Gresham Hotel for 30 years, hosting the likes of Elizabeth Taylor and Richard Burton in the 1960s, as well as Princess Grace and Prince Rainier of Monaco, who appointed him Honorary Consul of Monaco.
Pearse and Mary have weathered many storms down the years, from the foot-and-mouth crisis to September 11 (which nearly closed them down), the financial crash of 2008/2009, as well as Storm Ophelia in 2017.
"We managed to steer our business through all of these crises, which was very tough - but this one is different," said Mary. "We know that business is waiting to come through the doors, as opposed to the crash in 2008. We feel we must remain positive and ride this one out."
In July, they opened seven days a week to try and make up some of what they lost during the closure.
"The government wage subsidy was a great help. However, the VAT reduction from November will be at a time when most businesses will be closed. It would have been a great help from July to September.
"If the reduction in VAT could be applied for this period and the difference paid to businesses, that would be a great help to everyone."
Since the lockdown, they've been doing Shanghai Express takeaways with Jean Marc Tsai of the very popular former Kinsale Restaurant, who has been working with them for some time. Believe me, the food is incredible.
"We're adamant to keep going, and hopefully this will be behind us soon," Mary added.
thebulman.ie

The Restaurant
The Olde Post Inn in Cloverhill, Co Cavan, a very pretty and atmospheric former 19th-century post office, would normally be brimming with people this Halloween. Instead, its dining rooms and six bedrooms will be empty. Owned by Gearóid and Tara Lynch for almost 20 years, they told me how they've been adapting.
"When we reopened in June, the support from our customers and community was overwhelming. The core of the hospitality business is to look after people in every way we can, and to greet guests coming back through our doors was a pleasure," said Gearóid.
"We'd found ways to connect with our customers from behind masks, to be welcoming and friendly from a two-metre distance."
Roll on 14 weeks - and their doors are closed again. "This will be devastating to the industry as a whole," said Gearóid. "There is no disputing this. The effort that has been put into responsibly operating food businesses around the country is phenomenal.
"The blanket closure of all restaurants, cafes and bars will be devastating to everyone - staff, producers, local suppliers. The safety and well-being of the people is especially important and all steps necessary to reduce the spread of Covid-19 will be taken."
lucindaosullivan.com
First Published In The Sunday Independent