Restaurant Review - Hakka Choi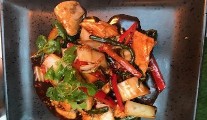 Tuesday 17 November 2020
Probably the only positive thing to come out of the awful pandemic situation this summer was that so many staycationers got to visit parts of Ireland they'd never been to before. These are people who'd think nothing of hopping off down to the Algarve, Marbella, or Sorrento. Instead, they got to visit places like Baltimore, Kinsale, Dingle, Kenmare, Killarney, the Ring of Kerry, west Clare, Connemara, Sligo, Donegal et al, and were blown away by what they found. The food, the scenery, the welcome, the fun, they enthused, wondering why they'd either never been before, or left it so long to go back.
These, of course, are not the only places in the country to visit. We have a gorgeous little island, and today, I'm going to put my spoke in for my own stunning location. When people think of coming to Dublin, they think mainly of the city centre, but all along the coast south of Dublin, through Monkstown, Dún Laoghaire, Dalkey and Killiney, is quite magnificent, with some lovely hotels, and the area is close to the city centre by Dart.
I live in the atmospheric, pretty village of Monkstown, which is blessed with an entire strip of restaurants offering varying cuisines, including Avoca's Salt Cafe; FXB's gastropub; Brasserie 8; the French-style Bresson; Italian food via That's Amore, Osteria 99 and Attico; seafood from Lobstar; plus Elephant & Castle, Cinnamon Cafe, Cafe du Journal, and Chinese food by Amerta, from whom we get takeaways.
lucindaosullivan.com
First Published In The Sunday Independent