Foodies Fight Back with Lucinda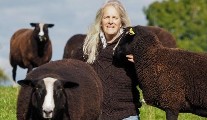 Tuesday 10 November 2020
THE PRODUCER
Suzanna Crampton has been enchanting people around the world with Twitter and YouTube posts of small farm life in Kilkenny with her rare breed Zwartbles sheep, her adorable dogs Inca ('The World's Smallest Sheepdog'), Pepper, Bear and The Big Fellow, and her cats Ovenmitt and the late Bodacious ¬¬- 'The Shepherd Cat', who wrote his own book!
"Zwartbles are a 'trifecta' breed of sheep," says Suzanna, "in that they produce milk, meat and wool. I developed a platform on social media to advertise this rare sheep breed to sell breeding stock as well as their delicious meat."
She was introduced to Philip Cushen of Cushendale Woollen Mills in Graiguenamanagh and went on to design a stunning black Zwartbles Ireland Travel Rug, which is woven there, and was selected by the Craft Council of Ireland for The London Design Festival in 2013. Since then, she's opened to tour groups, by appointment only, and her product range has increased to include a queen- size Zwartbles wool blanket, a cat-sized blanket, several different 100pc alpaca yarns, postcards, greeting cards and an annual calendar.
"With all my tour groups cancelled, and as I had sold out of my Zwartbles blankets the previous Christmas, I had little to sell during the first lockdown. I was quite stuck financially and could only sell cards. So, I developed my YouTube channel and uploaded daily videos of bottle-feeding lambs - which people seemed to enjoy, particularly those who were locked in small apartments in big cities worldwide. I now make a very small, but steady, income from my YouTube channel.
"The goodwill from all those people who watched my lambs grow during lockdown has paid off as so many kindly have been buying my blankets as soon as Cushendale was able to finish weaving them."
zwartblesireland.com
THE PUBLICAN
Since 1797, through famine, wars and risings, Mellett's Emporium in Swinford, Co Mayo, has been serving the public. Besides being a pub, down the years it has served as a shop, undertakers, shipping agent, travel agent, and insurance broker.
Today it continues to trade as a public house, and last month saw the latest transfer of the licence, after 40 years, from the sixth generation, Joe Mellett, to the seventh generation, his beloved daughter Marie Mellett.
"Records show the pub was never closed for such a long period as the 190-day closure due to Covid-19," says Marie. "It was a massive blow, both financially and mentally, to have to close again after just 16 days when unfortunately we had to temporarily lay off five of our six staff." In recent weeks, they opened their beer garden with just 15 customers. "The sense of community was beautiful. Blanket-clad customers smiled and laughed at how ridiculous the situation was." However, with Level 5 being implemented for the next six weeks, this, too, has ceased.
"Continuing to trade in the beer garden is vital for our survival. It will be impossible to make a profit this year and probably next year, too, but if we could cover our overheads, keep one bar person in employment and maintain our relationship with our local customers, it would be worth it.
"As the seventh-generation publican, I'm determined to not let the pub die with me. If we can weather this out, I do believe better days will come."
mellettsemporium.com

THE RESTAURANT
Paul Cartwright is the chef de cuisine and co-owner, with John and Angela O'Sullivan, of the legendary Roly's Bistro in Ballsbridge, Dublin.
"It's been a tough few months, there's no denying that. We were closed, then open, then closed again. With the current restrictions, the Bistro is again closed but we'd already planned to refurbish upstairs in late September."
They started Roly's collection and delivery service (within 6km of Ballsbridge) back in March, which has proved really popular. A lot of the favourite Roly's dishes are available seven days a week, including Kerry Lamb Pie - on the menu since day one - crab claws, divine Dublin Bay prawns and a traditional Sunday lunch roast.
lucindaosullivan.com
First Published In The Sunday Independent