Restaurant Review - Riba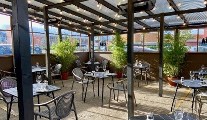 Wednesday 04 November 2020
A couple of years ago, Riba, a small Italian restaurant facing the Stillorgan Shopping Centre, added a street-side covered terrace to the restaurant, which proved a winner with the weekend brunch crowd.
Little did they know how vital this outdoor terrace space would be to the business, not only when Covid-19 hit in March, but even more so in the recent Dublin (and subsequent countrywide) lockdown and the ban on inside dining. Riba, with co-owner and General Manager Shane Molony to the fore, was way ahead of the posse in getting to grips with its takeaway and delivery service (which it still does), posting enticing pictures of whole black sole on the bone; fritto misto; scallops, and perfect pastas. It also upgraded the terrace, turning it into a very cool and inviting open glass box, with a high ceiling, lights, shrubbery and a great atmosphere. Lockdown or no lockdown, this glass box is in high demand.
There's quite a history of food in this premises, being owned since 1963 by the Borza family and now run by Shane Molony and Paolo Borza as business partners. Paolo also has Quattro Wood Fired Pizza in Stepaside.
lucindaosullivan.com
First Published In The Sunday Independent