Foodies Fight Back with Lucinda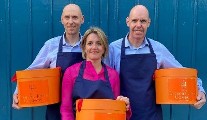 Friday 30 October 2020
THE EDUCATOR
Speaking to Cait Noone, head of the Galway International Hotel School at the Galway-Mayo Institute of Technology (GMIT), she told me how they had been affected by the ongoing global crisis.
"Covid-19 has presented many challenges to the tourism industry and our education courses across the Institutes of Technology," she said.
"GMIT was the first higher education institute to award degrees in Hotel Management in 1977 and since then we've gone on to build a variety of unique courses. People talk about pivoting in March, when Covid-19 changed our world, and higher education courses across GMIT moved instantly online.
"We had to reimagine how you might deliver essential practical skills in a virtual world. We quickly agreed that we would offer some classes online and some on campus, while adhering to all public health guidelines at all times."
Cait said the fall-off in CAO applicants, while not unexpected, has been worrying.
"For a number of years now we have seen applications drop off, and we are at a critical point in the education journey. Tourism education overall requires funding, as we deliver courses that require specialist training labs. If we don't secure investment we can't deliver the courses, and this may lead to increased labour shortages."
In early May, Cait collaborated with Mary Rose Stafford from IT Tralee and former Irish Hotels Federation president Michael Vaughan on a paper, included in the recently published 'Tourism Recovery Plan', proposing how the Institutes of Technology could assist with tourism recovery.
"We need a commitment from the Government for education if the tourism industry is to survive. We are a mighty industry and we don't give up easily," said Cait.
gmit.ie
THE PRODUCER
In the shadows of the magnificent Lismore Castle in Co Waterford, and with a history in fine food and drink stretching back some 200 years, brothers Owen and Ken Madden, along with Beth-Ann Smith, have been producing rather fine biscuits under their Lismore Food Company label.
With the arrival of Covid, their business was thrown into turmoil, as many of their retail and food service locations were closed. While online sales (particularly in Ireland) helped enormously, the future was uncertain. However, the doughty trio hatched a plan to push their business forward and open it up to new markets. Extending their product range to include speciality teas, coffee, preserves, chocolate, hot chocolate and more, they've created Lismore Hampers in the most gorgeous orange hat boxes.
"We are bringing a touch of excitement and luxury, which is needed in these turbulent times," said Ken.
Adapting their business, along with a new website with worldwide shipping, has positioned them to strengthen and grow during the season ahead and
beyond.
thelismorefoodcompany.com

THE RESTAURANT
Olivier Meisonnave's Dax in the capital has been voted Best Restaurant in Ireland, while Graham Neville has regularly been voted Best Chef.
Olivier told me how they are coping.
"The Covid-19 pandemic has affected our business by a 45pc loss of our normal turnover. Corporate business is non-existent, no tourists, large groups or large tables are not authorised," he said.
"It was a nightmare in March, as I didn't know what would happen. I needed to look after my long-standing staff. They know when 'Mr Smith' comes in, he likes fish and only drinks Bordeaux. It's important.
"So we used the wages scheme and did a top-up, and to cover it we've been operating Dax at Home while we were closed. We're doing that again now from Friday to Sunday until November 8."
Olivier said that the hospitality business requires honesty and clarity going forward.
"We cannot open and close every three months. We need to have a plan for the next six months and stick to it," he said.
"The VAT reduction will help. Also, in 2021 the Government should have a serious look at the financial position of all companies.
"If you want to save jobs and save money, then why give help to a business that has €9m in the bank, if a small business that employs 10 people, with only €200,000 in the bank, gets the same thing. Is that logical?
lucindaosullivan.com
First Published In The Sunday Independent