Restaurant Review - Bowls at All Alfresco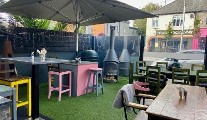 Thursday 29 October 2020
It didn't take the Dublin 'lockdown' and ban on indoor dining to have every restaurateur, pub and hotel tarting up and utilising every inch of outdoor space they could muster. We'd already had a summer of shacks, terraces, trucks and yards countrywide, because it's simply the way people want to eat now.
Heading into autumn, the desire for open spaces hasn't waned, but it's going to be more difficult for restaurateurs to make it worthwhile if the restriction of a maximum of 15 people dining outside holds.
There have been some really creative ideas countrywide but the one that caught my eye, and the subject of this review, is Kwanghi Chan's alignment with Mike Hogan of All Alfresco, a sales centre for Big Green Egg barbecues, on the forecourt of a former petrol station on Glasthule's main drag in Co Dublin.
lucindaosullivan.com
First Published In The Sunday Independent