Foodies Fight Back with Lucinda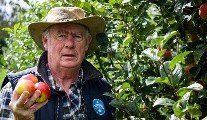 Wednesday 21 October 2020
The Producer
In east Waterford, David Dennison, who for many years had the famous Wine Vaults in Waterford city and is now the entrepreneur behind Viking Irish Drinks, tells me how Covid restrictions impacted what might have been their best season yet.
"In 2010 we planted the first outdoor vines and cider apple varieties. We have a vineyard and an orchard producing many types of craft wine, good old-fashioned craft cider and a new blackcurrant liqueur. Our production started commercially in 2018 with a bumper harvest of grapes and blackcurrants. Sales were brisk and plentiful. Our plan for 2020 was to establish our brand in bars, restaurants, cafes and hotels alongside the retail/off licence outlets."
When Covid shut down the country in March, David was forced to reassess. "Our small business was going to hit bumpy patches as our on-trade business was decimated before it really got started. We rescaled the projections and by mid-April we seemed to be making headway with the retail and off-sales business.
"We got some really good help from the Local Enterprise Board through top-class mentoring and some financial support, and Bord Bia gave us use of their library facility, The Thinking House. But, as an entrepreneur and small business owner, did we really get supported by our leaders and politicians? For me, the answer is a resounding no. We still have to pay VAT, duty, wages, licences, and did we get any of this waived? No. I firmly believe we're not all in this together, as the over-used tagline seems to imply. We're optimistic but genuinely concerned that no real plans are in place to support the craft drinks sector, but we will fight hard to keep our business on track and will never lie down."
vikingirishdrinks.com
The Cafe
Janine Breslin and Vivienne Johnston opened their popular Mellow Fig cafe in Blackrock, Co Dublin, during the recession in 2010. "Apparently, if we could make it through that we can make it through anything… and I think it's probably standing to us now," says Vivienne.
They were in shock in March when lockdown hit and businesses were forced into limbo but the worst part of all was having to tell their colleagues that they were no longer needed and that they didn't know when they'd be able to reopen.
"It's difficult, when you're known as a sit-in cafe, to flip your business to being take-away but we managed to offer many of the old favourites - especially our apple tarts, treat boxes and a brunch box at the weekends, which is still very popular now and can be pre-ordered."
This time the restrictions were less of a surprise to the girls, but, with weekend stocks in, the short notice from the Government meant they were never going to be able to cover their costs with just 15 people eating outside.
"We changed the inside and outside really quickly, adding tables to the covered lane, and setting up a takeaway fridge with our dressings and our baked goods to go."
A huge amount of work has gone into improvements on Blackrock's main street in recent months, but, being up a side street, the girls feel they haven't really benefited.
"We are in talks with the council to see what can be done on Georges Avenue to make it feel part of the village again… a few planters and a bin wouldn't go amiss. We are extremely lucky to have great staff, suppliers and customers alongside us and it makes life a lot easier. We are planning now for Christmas so watch out on our social media. Our new website will be live in the next two weeks."
themellowfig.ie
The Restaurant
Kevin Hui's parents started the China Sichuan 50 years ago and, it's fair to say, if you asked any food critic what the best Chinese restaurant was in Ireland, this favourite place of celebrities, rock stars, billionaires and SoCoDu families is where they'd send you.
"I feel so fortunate we've got this far but we've hit the most difficult and challenging of years. What a way to celebrate our 50th anniversary," says Kevin.
When the pandemic hit in March, Kevin turned the Dublin restaurant into a takeaway service. "Many of our staff have made the difficult sacrifice not to be with their families as they've no way of returning to China. Since the March lockdown, our most passionate commitment was to the safety of customers and staff."
Kevin resisted opening in July, feeling it safer to continue operating as a takeaway with a small team, all working within their own little bubble.
"Over the next few weeks, we're opening an online shop where people can purchase our sauces, ingredients we use, as well as 'cook at home' kits." Kevin adds, "Every business has streamlined their operations, but things could have been made easier and the Government should have provided more initiatives and support."
lucindaosullivan.com
First Published In The Sunday Independent