Restaurant Review - Pichet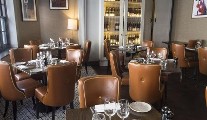 Tuesday 20 October 2020
Pichet opened in 2009, having been the subject of a six-part TV programme, following the trials and tribulations of Nick Munier and Stephen Gibson opening a restaurant in a recession in the former Moira Hotel.
They were celebrity fodder for fly-on-the-wall TV; a dream team for the cameras. Munier had been maitre d' on Marco Pierre White's Hell's Kitchen (MasterChef Ireland was to follow) and Gibson had a culinary pedigree that included Fauchon, the iconic Parisian food store; Nico Ladenis's three-star 90 Park Lane, and five years as head chef at Dublin's l'Ecrivain. With glitz and glamour adorning every Gitanes-blue chair, Pichet was the hottest ticket in town.
Five years later, the partnership split. Munier sold his share, while Gibson, changing the leather seating to tobacco brown, stayed on.
lucindaosullivan.com
First Published In The Sunday Independent