Foodies Fight Back with Lucinda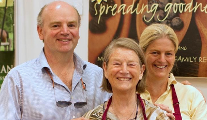 Wednesday 14 October 2020
THE PRODUCER
Crossogue Preserves in Thurles, Co Tipperary, was recently awarded three stars by the prestigious Great Taste Awards in the UK but, that apart, how have they been affected by the pandemic?
Set up 25 years ago by Veronica Molloy, a mother of six and grandmother of 14, today, with the involvement of her son Mark and daughter Anna Francis, the company supplies 130 varieties of jams, curds, marmalades, chutneys, coulis and sugar-free spreads throughout Ireland and internationally, as well as into the hospitality trade. The Great Taste judges eulogised Crossogue's gooseberry spread - still handmade using the traditional batch method, with premium raw ingredients - in foodie speak as having "notes from the flesh, skins and pips all present".
"With Covid-19's imposed lockdown, production stopped, but stock levels were so high we were able to meet stockists' reduced demand," says Veronica. "The kitchen is now operating again under strict Covid-19 guidelines and, thanks to the wage support scheme, we've managed to retain all of our team."
They've focused on creating greater awareness of their online shop, with their gift box proving popular for people to send to family and friends here and abroad.
"People have been astounding in supporting local businesses and this has helped to keep them going during these difficult, testing times."
crossoguepreserves.com
THE PATISSIER
Describing herself as a proud Limerick woman hailing from Ballylanders on the Limerick/Cork border, Norma Kelly opened Praline Pastry & Chocolate Shop in Mitchelstown in 2017 "so the Cork/Limerick rivalry and banter is great", she laughs.
The highly qualified, award-winning Norma spent 14 years in Dublin, studying and teaching her craft at DIT Cathal Brugha Street, before returning home to marry Patrick, "a lovely man from the neighbouring parish of Anglesborough" - where they live with their two-year-old daughter, Vivienne, and lurchers Jenny and Poppet.
"Last year I began Praline Pastry & Chocolate School, delivering classes in my old secondary school. This was short-lived due to Covid-19. I remodelled the business to a pastry and chocolate shop, which was secretly what I always wanted. All our individual French-style pastries, chocolate truffles, bars, and other products are made here in our little kitchen." These can be ordered online and delivered nationwide, while whole celebration cakes are available to order and collect.
Norma is hopeful for the business this autumn. "When we reopened after lockdown, our regulars were waiting, which has been so encouraging. Businesses, too, have supported each other, popping in to buy things, to lend ingredients or packaging, or just to chat about how things are going."
Government support has been great, Norma says, "however, we are not out of the woods - we don't know what the winter will bring. Small grants need to be given to people to encourage them to go out and spend locally".
praline.ie
THE RESTAURANT
Padraic O'Kane, co-owner of Fire at Dublin's Mansion House and Sole in South William Street, tells me how Covid-19 has affected the prominent city restaurants.
"In February, Fire completed a €1.1m refurbishment and Sole was enjoying the accolade of 'European Seafood Restaurant of the Year'. However, plans changed quickly in March when Covid-19 closed both restaurants."
Little did they know they would remain closed for 16 weeks, only to reopen with 60pc capacity and a long checklist of safety protocols.
"Up until the introduction of Level Three and closing us down again, our customers had rewarded both restaurants with their numbers from Friday to Sunday, for which we are extremely grateful."
lucindaosullivan.com
First Published In The Sunday Independent